Skip to Content
Automotive Interior Detailing Services in Orlando, FL
The Car Interior Detailer You Can Count On
Step into the world of automotive luxury with Auto Salon of Orlando's premier car interior detailing services in the vibrant city of Orlando, Florida. Our dedication to transforming your vehicle's interior into a sanctuary of comfort, elegance, and immaculate cleanliness is unmatched. From meticulous leather care to deep carpet cleaning, we take pride in rejuvenating every inch of your car's interior. Elevate your driving experience to a new level of luxury and comfort with our expert team. Don't miss out on the opportunity to enjoy a ride like never before – schedule your appointment today and indulge in the Auto Salon of Orlando experience.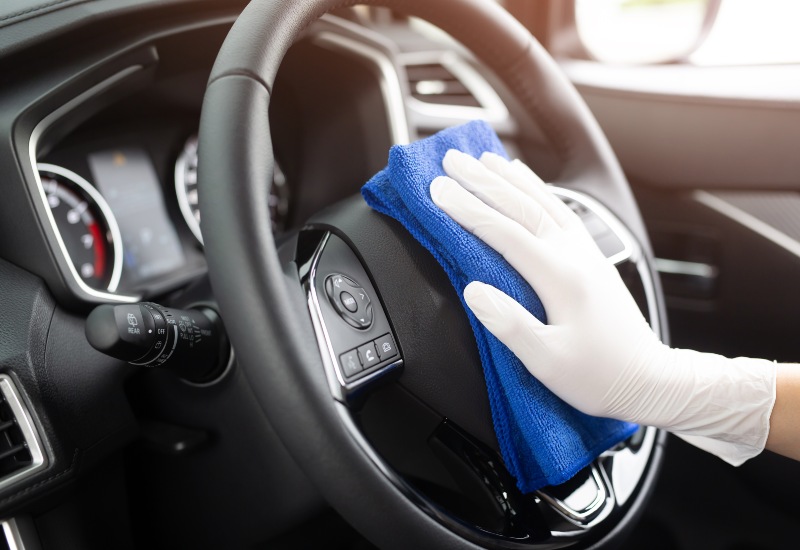 What Is Car Interior Detailing?
Car interior detailing is a meticulous and comprehensive cleaning and restoration process focused on the interior of a vehicle. It goes beyond a basic car wash and involves thoroughly cleaning, rejuvenating, and preserving a vehicle's interior surfaces. Mobile car interior detailing typically includes tasks such as vacuuming and shampooing carpets and upholstery, cleaning, and conditioning leather seats, sanitizing and disinfecting surfaces, cleaning and conditioning the dashboard and other interior components, and removing stains, odors, and allergens.
Benefits of Interior Auto Detailing
 Discover the numerous benefits of interior auto detailing services provided by Auto Salon of Orlando. Our meticulous approach to interior car care ensures that your vehicle remains in its best possible condition, inside and out. Here are some key advantages of interior auto detailing:
Enhanced Comfort – Interior detailing includes thoroughly cleaning and conditioning seats and upholstery, ensuring a comfortable and inviting cabin for your daily commute or road trips.
Improved Air Quality – Removing dust, dirt, and allergens from your car's interior surfaces leads to cleaner air, reducing the risk of allergies and respiratory issues for you and your passengers.
Stain Removal – Professional detailing can effectively remove stubborn stains from upholstery, carpets, and interior surfaces, restoring the aesthetics of your vehicle's interior.
Odor Elimination – Interior detailing includes deodorizing treatments, which help neutralize and eliminate unpleasant odors, leaving your car smelling fresh.
Preservation of Value – Regular interior detailing helps maintain the value of your vehicle, ensuring that it looks and feels well-maintained, which can be beneficial when it's time to sell or trade in your car.
Protection Against Wear and Tear – Conditioning and protecting interior surfaces such as leather and plastic help prevent premature aging and cracking, extending the lifespan of your car's interior.
Our Interior Detailing Process
Auto Salon of Orlando takes great pride in our comprehensive car interior detailing tools and meticulous interior detailing process. When you entrust your vehicle to us, you can expect a detailed and thorough approach to every aspect of your car's interior. Our process begins with carefully assessing your car's interior condition, and identifying areas requiring special attention. We then proceed with a systematic cleaning and restoration regimen, which includes vacuuming and shampooing carpets and upholstery, deep cleaning and conditioning of leather and vinyl surfaces, sanitizing high-touch areas, and eliminating odors. We pay close attention to every detail, from restoring dashboard components to addressing stains and allergens. Our goal is to leave your car's interior looking and feeling as close to brand new as possible, ensuring an inviting and comfortable environment for your every drive.
Why Choose Auto Salon of Orlando
Elevate the ambiance and comfort of your car's interior with Auto Salon of Orlando's unrivaled detailing services. We are passionate about enhancing your driving experience by ensuring your vehicle's interior radiates luxury and cleanliness. Our meticulous attention to detail and commitment to excellence set us apart as the premier choice for detailed car interior cleaning in Orlando, Florida. Don't miss the chance to savor the delight of a perfectly maintained and beautifully refreshed car interior. Contact us now to schedule your appointment and let Auto Salon of Orlando redefine your car's interior aesthetics and comfort.
Call Us Today for an Appointment