Skip to Content
Car Paint Protection Film Services in Orlando, FL
The Best Car Paint Protection Film Services
Shield your vehicle from the elements and preserve its pristine appearance with Auto Salon of Orlando's premier car paint protection film service in Orlando, FL. Our high-quality, clear bra paint protection film is designed to safeguard your car's vulnerable areas, such as the hood, fenders, and bumpers, from rock chips, scratches, and other road hazards. With our expertise and attention to detail, we ensure a seamless installation that blends seamlessly with your vehicle's aesthetics. Don't let your car's exterior suffer from wear and tear. Contact us today to schedule an appointment and give your vehicle the ultimate protection it deserves. Drive with confidence, knowing that Auto Salon of Orlando has you covered.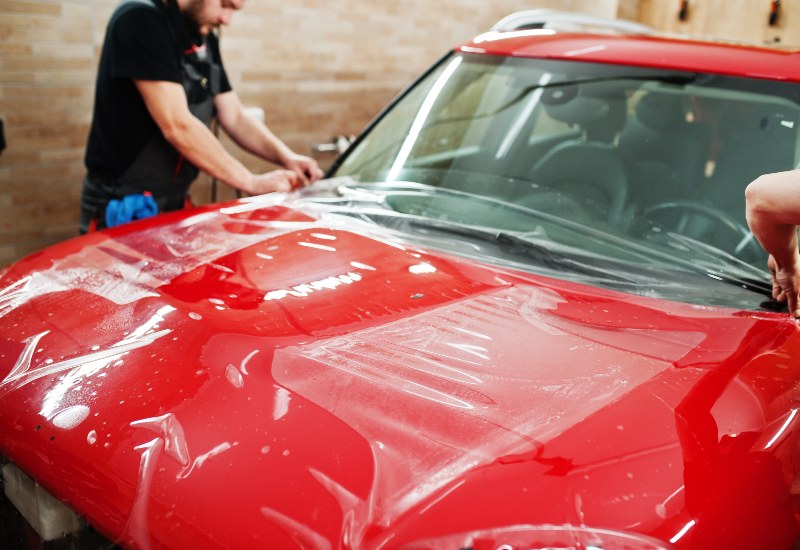 What Is Car Paint Protection Film?
Car Paint Protection Film, also known as clear bra or PPF, is a high-performance protective film applied to a vehicle's exterior surfaces to safeguard it against scratches, chips, and other forms of damage. The film is made from a durable, transparent polyurethane material and acts as a protective barrier between the car's paintwork and the elements. It is designed to absorb impacts and resist yellowing or discoloration over time, ensuring the vehicle maintains its original appearance. Car Paint Protection Film is custom-cut and applied to specific areas of the vehicle that are prone to damage, such as the hood, fenders, mirrors, and bumper. It provides an invisible shield that protects the paint from road debris, insects, bird droppings, and UV rays. This innovative solution allows car owners to preserve the beauty and value of their vehicles while enjoying the peace of mind that comes with knowing their paint is well-protected.
Benefits of Car Paint Protection Film
Applying paint protection film on your car offers numerous benefits, ensuring it stays in pristine condition for longer. First and foremost, PPF acts as a shield, protecting the car's paintwork from scratches, chips, and abrasions caused by rocks, road debris, or minor impacts. This protective film also acts as a barrier against environmental factors such as UV rays, preventing the paint from fading or oxidizing over time. Additionally, PPF is resistant to staining and discoloration, making it easier to clean and maintain the car's exterior. The film is self-healing, meaning that minor scratches and swirl marks can disappear over time with the application of heat or sunlight. By applying PPF, car owners can enjoy peace of mind, knowing that their vehicle's paintwork is safeguarded from daily wear and tear, maintaining its pristine appearance and resale value.
Our Expert Paint Protection Film Installation Process
Our skilled technicians begin by thoroughly cleaning and preparing the surface of your car, ensuring it is free from any dirt, debris, or contaminants that could interfere with the film's adhesion. They then carefully measure and cut the film to fit your vehicle's specific contours and dimensions, ensuring a seamless and precise installation. The film is applied using specialized techniques, ensuring a smooth and bubble-free finish. Our skilled technicians take great care to ensure that the edges are neatly tucked and wrapped around the vehicle's panels for a virtually invisible appearance. Finally, the film is meticulously trimmed and polished to perfection, leaving your vehicle protected with a flawless and long-lasting finish. With our expert paint protection film installation process, you can trust that your car is in capable hands, and the result will be a seamless, durable, and beautiful protective layer that enhances the overall appearance of your vehicle.
Contact Auto Salon of Orlando
Invest in your vehicle's long-term beauty and resilience with Auto Salon of Orlando's exceptional new car paint protection film service in Orlando, FL. Our top-of-the-line clear bra paint protection film offers unrivaled protection against the hazards of the road, ensuring your car stays in impeccable condition. With our skilled technicians and meticulous installation process, we guarantee a flawless finish that enhances your vehicle's appearance. Don't let chips, scratches, and other damage diminish the value of your car. Contact us today to schedule an appointment and experience the ultimate automotive protection. Safeguard your investment with Auto Salon of Orlando's car paint protection film and drive with peace of mind.
Call Us Today for an Appointment